Oatmeal Peanut Butter Cookies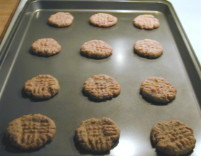 Ingredients:
2 tablespoons honey
2 tablespoons margarine
1/2 cup peanut butter (I use low fat) (chunky or creamy)
1 egg (with or without shell)
3/4 cup flour
1/2 cup quick cooking oats

Blend egg, softened margarine, flour, and honey together. Then add the peanut butter, then finally the oats. Roll into teaspoon sized balls, then criss-cross fork them, and bake at 350 degrees farenheit for 8 minutes. Makes about 19 small cookies.

Can be frozen for longer term storage and defrosted as needed. Makes about 19 cookies.