Takoda Aviary's Better Feather Birdie Bread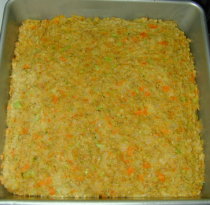 The ingredients used in this bread are specifically for developing and maintaining healthy, beautiful feathers!

Ingredients:
1 box Jiffy corn muffin mix
2 eggs
1 cup cooked brown rice
1/4 cup Calcium added Orange Juice
1/4 cup finely chopped peanuts (you *might* be able to substitute peanut butter... never tried)
1 cup uncooked oats
1 cup finely chopped broccoli (use blender or food processor)
1 cup finely chopped carrots

Mix corn muffin mix and eggs together until blended. Add in orange juice and rice. Mix well. Add in remaining ingredients. Spread in greased 8x8 pan. I use Olive Oil. Cook in 400 degree oven for 22 minutes. Cut into small cubes. Freeze.